Posts for: January, 2014
By Estill Dentistry
January 23, 2014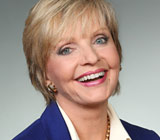 She's an international star who's recognized everywhere she goes. As Carol Brady, she was an ambassador for the "blended family" before most of us even knew what to call her bunch. And her TV Land Pop Culture Icon Award is on permanent display in the National Museum of American History. So what item that fits inside a purse can't Florence Henderson do without?
"I will never leave home without dental floss!" she recently told an interviewer with Dear Doctor magazine. "Because I have such a wide smile, I have found spinach or black pepper between my teeth after smiling very broadly and confidently."
Henderson clearly understands the importance of good oral hygiene — and she's still got her own teeth to back it up! In fact, flossing is the best method for removing plaque from between the teeth, especially in the areas where a brush won't reach. Yet, while most people brush their teeth regularly, far fewer take the time to floss. Is there any way to make flossing easier? Here are a couple of tips:
Many people have a tendency to tighten their cheeks when they're holding the floss, which makes it more difficult to get their fingers into their mouths and working effectively. If you can relax your facial muscles while you're flossing, you'll have an easier time.
To help manipulate the floss more comfortably, try the "ring of floss" method: Securely tie the floss in a circle big enough to easily accommodate the fingers of one hand. To clean the upper teeth, place fingers inside the loop, and let the thumb and index finger guide the floss around each tooth. For the lower teeth, use two index fingers. Keep moving the floss in your hand so you always have a clean edge... and remember, the goal is to get the tooth clean, but it shouldn't hurt — so don't use too much pressure or go too fast.
So take a tip from Mrs. Brady: Don't forget the floss! If you would like more information about flossing and other oral hygiene techniques, please contact us for a consultation. You can learn more in the Dear Doctor magazine article "Flossing: A Different Approach."
By Estill Dentistry
January 08, 2014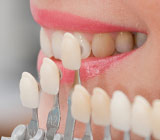 Dental professionals sometimes use specialized words, and you may not be clear about exactly what we mean. Test yourself on some of the specialized vocabulary concerning tooth whitening. How many of the following can you define correctly?
1. Bleaching?
A method of making yellow, discolored teeth whiter. It is relatively inexpensive and safe, with few side effects.
2. External or extrinsic staining and whitening?
Extrinsic staining mainly results from diet and smoking. For example, foods such as red wine, coffee and tea can produce extrinsic stain. Teeth with these stains are bleached by placing whitening substance in direct contact with the living tooth surface.
3. Internal or intrinsic staining and whitening?
Intrinsic tooth discoloration is caused by changes in the structure of enamel, dentin, or pulp tissue deep within the root of the tooth. When the discoloration originates with the pulp tissue, root canal treatment may be needed to whiten the tooth from the inside.
4. Chromogenic material?
Color generating material that may get incorporated into the tooth's substance. It can be a result of wear and aging, or can be caused by inflammation within the tooth's pulp.
5. Carbamide Peroxide?
A bleaching agent discovered in the 1960s and frequently used for tooth whitening. When used, carbamide peroxide breaks into its component parts, hydrogen peroxide and urea, which bleach the colored organic molecules that have been incorporated between the crystals of the tooth's enamel.
6. Power Bleaching?
This technique is used for severely stained tooth. It uses a highly concentrated peroxide (35 to 45 percent) solution placed directly on the teeth, often activated by a heat or light source. This must be done in our office.
7. Tetracycline?
An antibiotic used to fight bacterial infections. It can result in tooth staining when taken by children whose teeth are still developing.
8. Rubber Dam?
Use of strong bleaching solutions requires protection for the gums and other sensitive tissues in your mouth. This is done using a rubber dam, a barrier to prevent the material from reaching your gums and the skin inside your mouth. Silicone and protective gels may also be used.
9. Whitening Strips?
Strips resembling band-aids that you can use in your home to whiten your teeth. They generally contain a solution of 10 percent or less carbamide peroxide gel. When using them, be sure to read the directions and follow them strictly to avoid injury or irritation.
10. Fade Rate?
The effects of bleaching may fade over time, from six months to two years. This is called the fade rate. It can be slowed down by avoiding habits such as smoking, along with food or drink that causes tooth staining.
Contact us today to schedule an appointment to discuss your questions about tooth whitening. You can also learn more by reading the Dear Doctor magazine article, "Teeth Whitening."