Posts for: January, 2015
By Estill Dentistry
January 28, 2015
Perhaps you've seen Nate Berkus on The Oprah Winfrey Show or watched his television program, The Nate Berkus Show. You may even have read his best-selling book, Home Rules: Transform the Place You Live Into a Place You'll Love. Regardless of where or how you discovered Berkus, you will surely have noticed his dazzling smile.
Berkus recently opened up about the facts behind his trademark smile during an interview with Dear Doctor magazine. First off, his smile is totally natural, as he never wore braces or had any cosmetic work, including porcelain veneers. However, Berkus does give credit to his childhood dentist for the preventative healthcare he received as a young boy. "I'm grateful for having been given fluoride treatments and sealants as a child," he said. Nate also shared the important flossing advice he learned from his dentist that he still follows today: "Floss the ones you want to keep." Berkus went on to say that he feels, "healthy habits should start at a young age."
And we totally agree! For this reason we have put together the following list of facts and oral hygiene tips:
Over 50% of plaque accumulation occurs in the protected areas between teeth — a place that may be difficult or even impossible to reach with a toothbrush.
A thorough brushing may take up to two minutes at first, and it may feel awkward as you reach some places in your mouth.
Remember, more is NOT always better! Brushing or flossing too hard can be damaging to your teeth and gums. And never saw back and forth with your floss.
To learn more about oral hygiene, including brushing and flossing techniques, you can continue reading the Dear Doctor article "Oral Hygiene Behavior - Dental Health For Life." Or you can contact us today to schedule an appointment so that we can conduct a thorough examination, review your brushing and flossing techniques, and discuss any questions you have as well as treatment options. As needed, we will work with you to teach you the proper brushing and flossing techniques so that you feel confident before you leave our office. And to read the entire interview with Nate Berkus, please see the Dear Doctor article "Nate Berkus."
By Estill Dentistry
January 13, 2015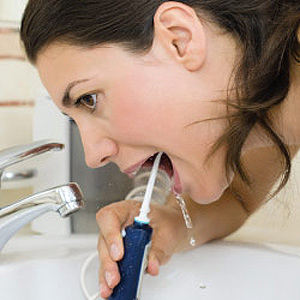 A critical part of effective, daily oral hygiene, flossing removes bacterial plaque from between teeth that can't be accessed with brushing. Unfortunately, it's often neglected — string flossing requires a bit more dexterity than brushing and can be difficult to do properly.
It can be even more difficult for people with implants or who wear orthodontic appliances. For brace wearers in particular, getting access to areas between teeth with string floss is next to impossible; the metal brackets and tension wire also have a tendency to catch and retain food debris that's difficult to remove with brushing alone.
Water flossing, using a device called an oral irrigator, is an effective alternative that addresses many of these difficulties. First available for home use in the 1960s, an oral irrigator delivers pulsating water at high pressure through a handheld applicator that forcefully flushes material from between teeth.
There's no question that string flossing is effective in plaque removal between teeth — but what about oral irrigators? A 2008 study looked at a group of orthodontic patients with braces who used oral irrigators and compared them with a similar group that only brushed. The study found that five times as much plaque was removed in the group using the oral irrigators as opposed to the group only brushing.
Oral irrigators may also be effective for people who've developed periodontal (gum) disease. In fact, oral irrigators coupled with ultra-sound devices are routinely used by dental hygienists to remove plaque and calculus (hardened plaque deposits) in periodontal patients. As with regular oral hygiene, though, it's important for patients with gum disease to include water flossing with daily brushing (at least twice a day) and regular cleaning sessions at the dentist to ensure removal of all plaque and calculus.
If you're interested in using an oral irrigator, be sure to consult with us at your next appointment. Not only can we recommend features to look for in equipment, but we can also instruct you on the techniques to make water flossing an effective plaque remover.
If you would like more information on water flossing, please contact us or schedule an appointment for a consultation. You can also learn more about this topic by reading the Dear Doctor magazine article "Cleaning Between Your Teeth."