Posts for tag: teeth whitening
By Estill Dentistry
March 10, 2017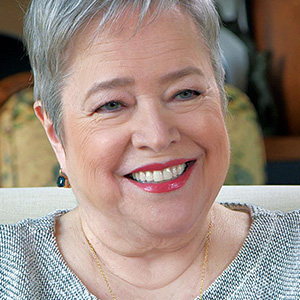 Academy Award-winning actress Kathy Bates knows how important it is to present your best face to the world — and one of the most important features of that face is a beaming smile. But there came a point when she noticed something was a little off. "I've always had good teeth, but it seemed to me as I was getting older that they weren't looking as good," Kathy explained in a recent interview with Dear Doctor magazine.
That's when she decided it was time to take action. Kathy had orthodontic treatment when she was in her fifties, and she keeps her smile bright with tooth whitening treatments. She uses a kit provided by her dentist with a safe, effective whitening solution.
Of course, a bright, healthy smile looks great anywhere — whether you're on the red carpet or "off the grid." And you don't have to be a Hollywood star to have professional whitening treatments. In fact, teeth whitening is one of the most popular and affordable cosmetic treatments modern dentistry offers.
The basic options for professional teeth whitening include in-office bleaching or take-home kits. Both types of dentist-supervised treatments offer a safe and effective means of getting a brighter smile; the main difference is how long they take to produce results. A single one-hour treatment in the office can make your teeth up to ten shades lighter — a big difference! To get that same lightening with at-home trays, it would take several days. On the plus side, the take-home kit is less expensive, and can achieve the same results in a bit more time.
It's important to note that not all teeth can be whitened with these treatments. Some teeth have intrinsic (internal) stains that aren't affected by external agents like bleaches. Also, teeth that have been restored (with bonding or veneers, for example) generally won't change color. And you can't necessarily whiten your teeth to any degree: Every tooth has a maximum whiteness, and adding more bleach won't lighten it beyond that level. Most people, however, find that teeth whitening treatments produce noticeable and pleasing results.
What about those off-the-shelf kits or in-the-mall kiosks? They might work… or they might not. But one thing's for sure: Without a dentist's supervision, you're on your own. That's the main reason why you should go with a pro if you're considering teeth whitening. We not only ensure that your treatment is safe — we can also give you a realistic idea of what results to expect, and we will make sure that other dental problems aren't keeping you from having a great-looking smile.
How often does Kathy Bates see her dentist for a checkup and cleaning? "I go about every four months," she noted. "I'm pretty careful about it." And if you've seen her smile, you can tell that it pays off. If you would like more information about teeth whitening, please contact us or schedule an appointment. You can learn more in the Dear Doctor magazine articles "Important Teeth Whitening Questions Answered" and "Teeth Whitening."
By Estill Dentistry
October 09, 2014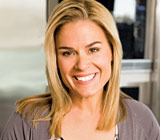 When asked about her dazzling white smile, Cat Cora, the first female iron chef on the hit television series Iron Chef America, freely admits to maintaining the brightness of her smile with professional whitening sessions.
"With what I do, whitening your teeth is like getting your hair done, your nails done and everything else you have to do to be on television," Cat recently told Dear Doctor magazine. However, she does have her limits. "I want my teeth to be white and healthy looking — but not stark white or looking like they could glow in the dark," she said with a laugh.
Cat's perceptions and experiences with tooth whitening may accurately describe Hollywood, but through the power of media, celebrities and their respective fan bases, having attractive white teeth has become a goal for most people. This is because white teeth are subconsciously associated with youth and virility.
Here in the dental office, we can use professional-strength "power bleaching" to whiten teeth several shades in a single visit. To prevent irritation to the area surrounding the teeth being treated, we isolate the gums and skin of the mouth with a protective gel or a rubber barrier known as a dental dam. After the whitening solution is placed on the teeth, the process may be supplemented by heat or a light source to activate or enhance peroxide release.
For bleaching teeth at home, our office can make custom-fitted bleaching trays that you fill with a gel form of carbamide peroxide. Sometimes this whitening gel can cause a temporary tooth sensitivity to hot and cold, but this normally lasts for no more than four days after you stop bleaching your teeth.
To learn more about tooth whitening, you can continue reading the Dear Doctor magazine article "Teeth Whitening." Or you can contact us today to schedule an appointment so that we can conduct a thorough examination and discuss what treatment options will be best for you. And to read the entire interview with Cat Cora, please see the article "Cat Cora."
By Estill Dentistry
January 08, 2014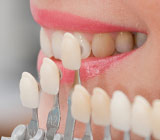 Dental professionals sometimes use specialized words, and you may not be clear about exactly what we mean. Test yourself on some of the specialized vocabulary concerning tooth whitening. How many of the following can you define correctly?
1. Bleaching?
A method of making yellow, discolored teeth whiter. It is relatively inexpensive and safe, with few side effects.
2. External or extrinsic staining and whitening?
Extrinsic staining mainly results from diet and smoking. For example, foods such as red wine, coffee and tea can produce extrinsic stain. Teeth with these stains are bleached by placing whitening substance in direct contact with the living tooth surface.
3. Internal or intrinsic staining and whitening?
Intrinsic tooth discoloration is caused by changes in the structure of enamel, dentin, or pulp tissue deep within the root of the tooth. When the discoloration originates with the pulp tissue, root canal treatment may be needed to whiten the tooth from the inside.
4. Chromogenic material?
Color generating material that may get incorporated into the tooth's substance. It can be a result of wear and aging, or can be caused by inflammation within the tooth's pulp.
5. Carbamide Peroxide?
A bleaching agent discovered in the 1960s and frequently used for tooth whitening. When used, carbamide peroxide breaks into its component parts, hydrogen peroxide and urea, which bleach the colored organic molecules that have been incorporated between the crystals of the tooth's enamel.
6. Power Bleaching?
This technique is used for severely stained tooth. It uses a highly concentrated peroxide (35 to 45 percent) solution placed directly on the teeth, often activated by a heat or light source. This must be done in our office.
7. Tetracycline?
An antibiotic used to fight bacterial infections. It can result in tooth staining when taken by children whose teeth are still developing.
8. Rubber Dam?
Use of strong bleaching solutions requires protection for the gums and other sensitive tissues in your mouth. This is done using a rubber dam, a barrier to prevent the material from reaching your gums and the skin inside your mouth. Silicone and protective gels may also be used.
9. Whitening Strips?
Strips resembling band-aids that you can use in your home to whiten your teeth. They generally contain a solution of 10 percent or less carbamide peroxide gel. When using them, be sure to read the directions and follow them strictly to avoid injury or irritation.
10. Fade Rate?
The effects of bleaching may fade over time, from six months to two years. This is called the fade rate. It can be slowed down by avoiding habits such as smoking, along with food or drink that causes tooth staining.
Contact us today to schedule an appointment to discuss your questions about tooth whitening. You can also learn more by reading the Dear Doctor magazine article, "Teeth Whitening."